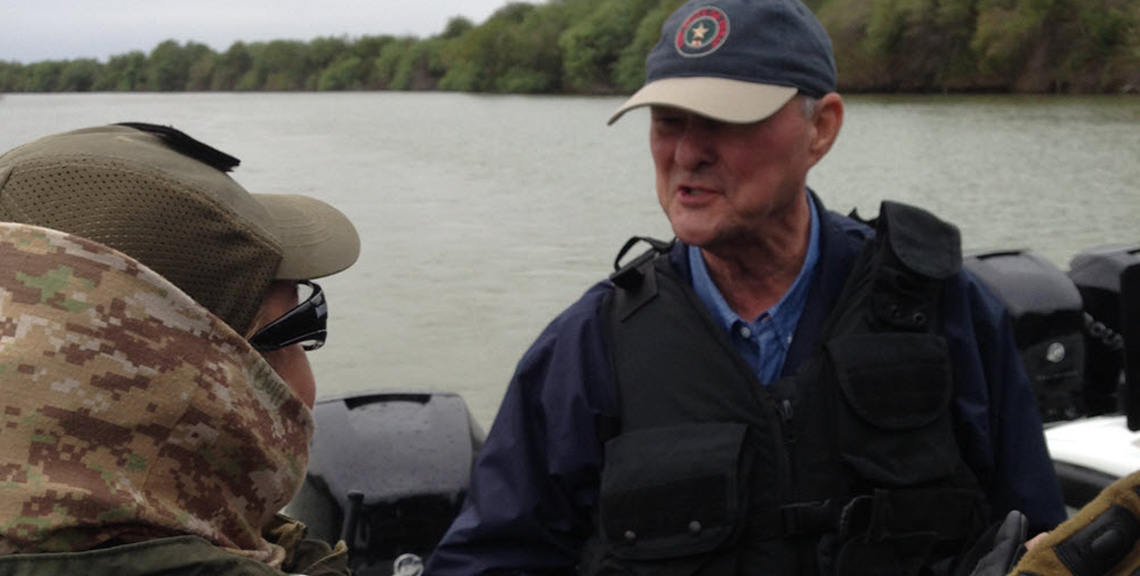 Strong Support for Increased Border Security
I proudly supported increasing funding to secure our border and protect our citizens. The Texas-Mexico border consists of 1,254 of the 1,900-mile-long U.S.-Mexico border. In picking up the slack from the Federal government in protecting its borders, the Texas Legislature demonstrated its commitment to border security by passing House Bills 10 and 11. House Bill 10 addresses human trafficking by putting in place new steps in fighting and eliminating the abhorrent practice. House Bill 11 places hundreds of state troopers along the Texas-Mexico border to assist in fighting and prosecuting border-related crimes.
Protecting Life and Defunding Planned Parenthood
I supported further pro-life successes that were achieved this session with the passage of critical pro-life bills, further defunding Planned Parenthood and expanding funding for alternatives to abortion. House Bill 3994 reforms the judicial bypass process for minors seeking abortions, allowing protection of parents' rights and more oversight of the bypass process. House Bill 3374 requires a medical provider to furnish information following a Down Syndrome diagnosis to new or expectant parents. House Bill 3074 protects patients in the natural process of death by requiring life sustaining medications and support. I will always stand on the side of life.
A Texas Solution to Obamacare
House Bill 3185 was the result of my collaboration with our Brazos County hospitals and community leaders. It establishes a Texas solution to the Medicaid gaps without being linked to expensive and inefficient "Obamacare". This program will bring in over $25 million to our local hospitals annually, assisting them with indigent care without an increase in taxes or fees.
Funding Texas A&M
"I would venture to say this was the best Legislative Session for Texas A&M since I was a member of the Legislature…and that was a long time ago." – Chancellor John Sharp
Texas A&M University will remain on the cutting edge because of numerous successes in the legislative and budget processes of the 84th Legislative Session.
An additional $63 million (12.5%) over the last biennial budget to address needed facility upgrades, additional research opportunities without saddling students and families with additional debt.
Founded Governor Greg Abbott's Research University Fund which will bring $10 million a year to assist with the

recruitment of Nobel Laureates and National Academy members as professors.
A&M System Achievements:
These improvements are vital to maintaining and improving the agriculture sector, transportation projects, and medical needs of Texas.

The A&M main campus will receive funding for the Large Animal Biocontainment Safety Lab for animal to human disease research.

The Texas agriculture industry employs one in seven Texans and has an over $100 billion impact.

Texas AgriLife Research will receive funding for vital studies of Vector-Borne Diseases that protect our livestock producers, an over $12 billion dollar industry.

The Texas A&M Health Science Center can now build the new Bryan College of Medicine campus to address doctor, nursing, and medical professional shortages in our state.

Texas Engineering Experiment Station and Texas Transportation Institute can now begin construction on their Center for Infrastructure Renewal Building to research new transportation materials and methods.
Veteran Health
When I learned that military reservists and guardsmen could have their state health care coverage lapse before returning to civilian employment after being deployed, I filed and passed House Bill 437. This bill guarantees that veterans who are state, county, city, or school district employees and their families would not endure a loss of health care coverage as they make their way back into civilian life.
Serving Those Who Serve
After conducting research, it came to my attention that some state and local employers were unaware of the state law providing that public sector employees who serve in military reserve and guard duties receive 15 days of paid leave to fulfill their annual military training requirement. I filed and passed House Bill 445 requiring that when a public employees are initially hired, they receive the information about paid leave for military training. This bill allows for employees and their families to be properly informed and prevents avoidable lawsuits.
Veteran Job Placement
Texas has taken a lead in hiring military veterans by allowing for many of our military men and women to begin a career in public and private sector employment. Senate Bill 805 establishes goals and guidelines for public and private sector employers so that they may pursue veteran preferred hiring practices. It was my honor to sponsor and pass this important legislation that will preserve our commitment to those who serve our country.
Peace Officer Sick Leave
It was an honor to be asked by the Texas Department of Public Safety Officers Association to file legislation that would allow state agencies to establish a program for direct donations of sick leave between its employees for specific individuals in need. House Bill 1771is designed for those who are severely ill, who have a severely ill family member who needs care, or those who are experiencing an unforeseen health related emergency to receive donations of sick time.
Supporting Our Local Officers
It was a pleasure to work with Brazos County Sheriff Chris Kirk on House Bill 2272, which corrects an oversight from the 82nd Legislative Session. Previously, certain law enforcement offices were able to issue blanket surety bonds for their reserve officers, allowing their budgets to operate more efficiently. House Bill 2272 permits the same type of bonds to be issued to sheriff offices.
Blinn College – Bryan Representation
Our students at Blinn College in Bryan are entitled to fair representation on the BlinnBoard of Trustees given that the vast majority of those enrolled at Blinn College are attending classes in Bryan. I filed and passed House Bill 2621, which places two representatives from Brazos County on the Blinn Board of Trustees to help address our students' needs. These students now have a voice in addressing the overcrowded classrooms, insufficient parking, and necessary facility improvements for their growing campus.
Junior College Fiscal Responsibility and Accountability
To run a successful business, it's vital to know how money is being spent. The same policy should be applied to institutions of higher education who are receiving funding from tax dollars. In researching the financial practices of Blinn College, I discovered that inadequate community college financial reporting requirements exist. Community colleges have a responsibility to tax payers to maintain sound financial records, especially if a community college has more than one campus. I was successful in adding a rider to House Bill 1 (our state's budget) that requires a campus-by-campus financial breakdown to be reported to the Legislative Budget Board.
Improving College Accessibility
House Bill 3367 (Senate Bill 1470) authorizes the Texas Higher Education Coordinating Board to create the State Authorization Reciprocity Agreement which is a voluntary agreement that enables higher education institutions to streamline the application and approval process with regards to postsecondary distance learning offered across state lines. Prior to this bill, the process was time consuming and costly. Senate Bill 1470 reduces administrative costs in that institutions are not individually negotiating course authorizations.
Increased Government Transparency
Senate Bill 685 provides increased government transparency by requiring the Education Research Center Joint Advisory Board to be subject to open records requests and the requirements for conducting open meetings. The Joint Advisory Board adopts policies governing the operation of the state's Education Research Centers, shares data for the development of education and workforce studies, and is required to meet at least quarterly.
Protecting Your Private Property
House Bill 1454 protects senior citizens from having their property mistakenly seized by the state upon being presumed abandoned. This is the first bill in what will be a comprehensive property protection legislation package which will prevent these costly mistakes from being made by the State of Texas. The issue addressed by House Bill 1454 was brought to me by one of our neighbors and was the result of the collaborative efforts between my office, constituents, local business, and banking industry leaders.
A&M Helping to Reduce State Energy Costs
To save tax dollars on state building operations, an energy conservation pilot program that Texas A&M's Energy Systems Laboratory (ESL) will operate in partnership with the Comptroller's State Energy Conservation Office. This program promotes energy efficiency projects in state buildings and will significantly reduce maintenance costs as evidenced by ESL's previous work in our very own State Capitol Building. The original bill was filed as House Bill 2919, and I was successful in passing into law as an amendment to House Bill 1184.
Building an Even Stronger Local Economy
House Bill 3629 allows Brazos County to use already collected hotel occupancy taxes to expand or renovate our municipal sporting facilities. These facilities will attract even more tourists to our community, bringing in more tourism dollars.
Stopping Payment Discrimination
House Bill 3442 created an enforcement mechanism to protect customers from businesses that added surcharges for debit card transactions. This practice was already illegal prior to the 84th Legislative Session but previously lacked a method of enforcement. The law still preserves the ability for business owners to offer discounts for certain payments, but will ensure customers are not illegally charged for using payments other than cash.
Stopping Fraud
I had the honor of working with Brazos County Tax Assessor/Collector Kristeen Roe in crafting House Bill 3423. This bill closed a loophole that people used to defraud local governments by manipulating automobile registration by making payments on credit and debit cards then refusing the legitimate charges. This method of fraud was already illegal for hot checks but needed to be updated to include credit and debit card transactions.